DT Dijkstra is best known for its machines and installations for grading, cleaning and transporting potatoes. But the company also offers excellent solutions for onions.
DT Dijkstra produces grading machines, logistics solutions and complete installations for onion packers and processors. Because our engineers are always looking for the best solution for every customer and project, they strongly believe in improving and adapting existing concepts.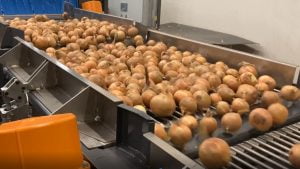 New in the DT Dijkstra product range: the onion topper
An onion topper is especially designed to remove the haulm (the top) of onions. The foliage that comes with the harvest from the land must be removed from the onions before processing or packaging. To do this, the onions are supplied to the onion topper, after which they are transported over bar sieves. These sieves are set in motion by special vibrating motors, so that the onions move over the sieves and the tail is steered into a position between the bars. There are blades underneath the sieves. The high speed of the motors and the special shape of the blades create a strong air flow that sucks the onion tops through the bars of the vibrating sieve.
At that moment, the blades can do their job and remove the tops. The length of the sieve (or the number of sieves in a row) ensures that the onion has sufficient space to get into the correct position on the sieve, so that the haulm can be sucked down and the blades can cut the top.
Adjustable top length
With the further developed version of the DT Dijkstra onion topper it is possible to set the distance between sieve and blade. The active suspension system adapts to the sieve vibration amplitude. This way, the blade can be adjusted almost up against the sieve within a few seconds, so that the top is cut shorter than with comparable existing systems. This guarantees a flexible top length depending on customers' needs or processing period.
Innovation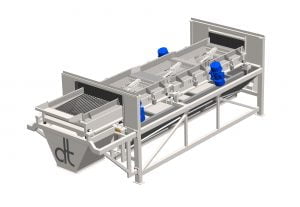 With their many years of specific experience in onion processing, the engineers at DT Dijkstra are focused on innovative solutions to problems that are more or less accepted in practice. Examples of this are reducing the weight of the sieve from 45 kg to 8 kg, extending the tool life of the blade cutting surface and combating sieve fouling, thus extending the cleaning interval.