The GRADE 2-2500 is a grading machine that meets the needs of different user groups in the seed potato sector and the potato processing industry. What makes this machine so versatile?
Accurate and adjustable

The GRADE has a maximum capacity of no less than 50 tonnes/hour for cleaned or washed potatoes. The machine has a frequency-regulated control for extensive and infinitely variable control of the shaking movement, stopping moment and transport speed. The GRADE has a large screen surface, divided into 2 handy screens with a length of 1,300 mm. For additional grading accuracy, the machine is also available with a screen length of 1,600 mm. Both screen decks are equipped with their own eccentric drive shaft. In addition, the GRADE has an independently driven and height-adjustable screen cleaning system.
Practical

The GRADE is equipped with a centrally controlled hydraulic tensioning system for quick screen changes. In addition, very little space around the machine is required for a screen change. How convenient!
This is the GRADE 2-2500: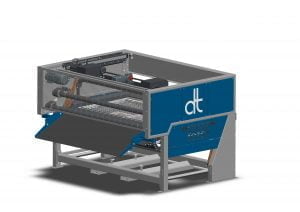 Accurate grading of 3 sizes
Maximum capacity of 50 tonnes/hour with cleaned or washed potatoes
Stepless control for optimal grading movement
Low cost price per kilogram of processed product
Can be implemented as a mobile module