DT Dijkstra has more than 95 years of experience in cleaning and sorting agricultural products. We distinguish ourselves by offering total solutions. The focus is on the best solution for the specific application of the customer. This can be a DT Dijkstra machine, but also a product from another specialized manufacturer. Close contact is maintained with these suppliers who offer quality products that go well with those of DT Dijkstra.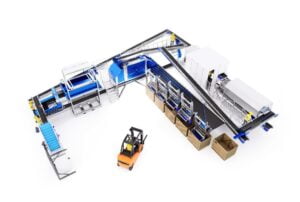 This way we can always offer the most suitable solution, whether it concerns mechanical or optical sorting, cleaning, water management, box handling or other processes. So you, as our customer, will get the best option for your specific needs!
Are you looking for knowledge and expertise to (re)build or optimise your installation? We are ready to work with you to develop the optimal installation for your process.
Don't hesitate to contact us via phone +31 527 30 77 00 or email sales@dtdijkstra.nl.
Total solutions for cleaning and sorting
Well-thought-out logistic solutions
Modular structure of processing lines
Complete turnkey projects
Suitable for reliable everyday use