DT Dijkstra is official dealer of Visar Sorting equipment for the Netherlands and Belgium. In addition, Visar is used by DT Dijkstra in projects worldwide as a total solution.
Visar Sortop is the latest, fully automatic electronic camera grader that can be used for high-quality optical grading of washed carrots and both washed and unwashed potatoes. Visar Sortop can grade any batch of carrots or potatoes consistently and efficiently, making manual sorting virtually unnecessary.
Complete installations
The addition of Visar Sortop to the product range means that DT Dijkstra can now offer installations in which the entire process, from receipt via washing and grading of the product to filling boxes, is carried out with minimal human intervention.
Capacity*
Carrots: maximum 15 per second
Potatoes: maximum 30 per second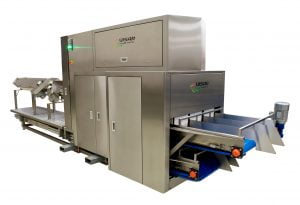 * depending on product composition
This is Visar Sortop:
Grading by length and diameter
Assessment on all quality aspects
The camera can process both carrots and potatoes and is easy to set up via the large operating screen and keyboard with mouse control
Sophisticated software based on artificial intelligence, presented in an extremely user-friendly operating programme
Perfect analysis of the unified product, based on 360° photo taken by an intelligent system of 1 camera and 2 mirrors
Quality grading based on 0.16 mm² accuracy in surface assessment
Possibility of six outputs for size and quality sorting
Proven reliable technology
Very constant and consistent product assessment throughout the day, achieving up to 5% higher yield in your deliverable product
Significant savings on labour costs