New in DT Dijkstra's delivery programme is the Evolution Separator. Suitable for potatoes, onions and carrots, this innovative roller cleaning set gently processes the product flow and removes clods, wet and loose soil, stones, haulm and weeds from both a dry and a wet product flow.
The Evolution Separator consists of several segments of a large, specially developed flexible rubber spiral roller with air chambers and a smaller smooth counter roller. The direction of rotation and the height of this counter roller is independently adjustable relative to the spiral roller. This adjustment depends on the degree of contamination of the product. Due to the different spiral versions, the Evolution Separator can be used in all circumstances and with all products. The combination of independent and directly driven rollers with the well-thought-out PLC control makes it possible to adjust the cleaning optimally, efficiently and product-friendly in all circumstances.
Importer for the Netherlands, Belgium and Germany
DT Dijkstra is now the importer of the Evolution Separator for the Netherlands, Belgium and Germany. More than 90 years of experience in the processing of agricultural products, in combination with the Evolution Separator, enables us to offer a solution for every specific and individual situation of our customers.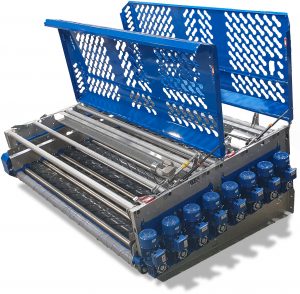 This is the Evolution Separator:
Capacity up to 60 tons/hour
Well-tried and approved technology
Product-friendly
Installation possible in both mobile and fixed installation
Easy operation
Optimally adjustable for every crop under all circumstances
Minimal maintenance due to self-cleaning function
Suitable for potatoes, onions and carrots
Suitable for both dry and wet crops