The GRADE grading machine is a flexible, versatile grading machine for up to 3 sizes. This high capacity grading machine meets the requirements of various groups of users in the seed potato and potato processing industry.
GRADE features:
Frequency control
Extensive and continuously variable adjustment options for rocking movement, stop moment and transport speed
Independently driven and height-adjustable screen cleaner system
Centrally operated hydraulic clamping system for play-free clamping and fast screen change
Only limited free space around the machine is required for screen change
Adjustable screen deck angle for optimal combination of grading result and capacity
Both screen decks equipped with their own eccentric drive shaft
Large screen surface, divided into 2 handy screens, each measuring 1,270 x 1,300 mm
Available in screen deck lengths of 1,300 mm and 1,600 mm for extra grading accuracy.
This is the GRADE: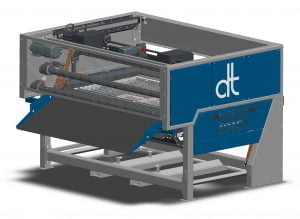 Precise separation of upper and lower sizes
Maximum capacity of 50 tons / hour with cleaned or washed potatoes
Low cost per kilogram of processed product.
Available as a mobile module