In 1926, DT Dijkstra invented the electrically driven screen deck grading machine. This revolutionary product not only meant a major change for many farmers, packers and industrial processors; the concept is still used in many forms and applications. An unprecedented form of future-oriented thinking that deeply characterizes DT Dijkstra. Discover at Interpom in Kortrijk how DT Dijkstra can help you today to be ready for the future!
Inspiration from practice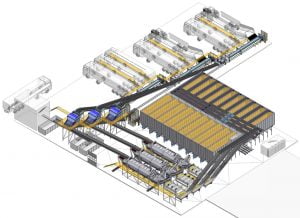 The best ideas often arise from practical thinking about projects at DT Dijkstra. Because of course we do not just think about today, but also about the future. For example, the requirements for agricultural products, (food) safety and product traceability are becoming increasingly strict. This means that one must be able to think ahead. Can you, as a user, still achieve your ambitions in 10 years' time with the installation that is being designed today? What developments are currently underway that will be extended into the future? Can we already prepare something for this, or even design the future?
Future-oriented thinking
You as a customer are not alone with such questions and challenges. Because future-oriented thinking is in DT Dijkstra's genes; this has been proven over the past century. While doing and thinking, it often happens that a new variant of a machine, or even a completely new product, is created in the field of sorting, cleaning or logistics for potatoes, carrots and onions. For large and smaller users. We are also an importer and integrator of a number of specialist machines in which we see a great future. We can therefore always offer you the most suitable specific solution!
Interpom
Now that there is an opportunity for the entire potato sector to meet again at Interpom 2021, DT Dijkstra is happy to show what has been conceived, designed and made since our last meeting. Or what else has been further developed on existing machines. In short: a lot of news at our stand. In this newsletter we give you a preview of what you can expect.
Welcome!
You are cordially invited to our stand. Would you rather make an appointment? Then contact our specialists Marcel, Harco and Gerard via tel. +31 527 30 77 00.