Producing machines and installations is great, but DT Dijkstra first likes to take on the challenge of finding an excellent solution for every customer. This is experienced by the companies in the processing and packaging industry of, among other things, potatoes, carrots and onions, who consult with DT Dijkstra. According to DT Dijkstra, designing projects and machines that match the exact wishes and actual needs of the customer is the basis of this excellent solution.
Exceed expectations
The customer often knows what he is looking for and there is a basic idea on the basis of which a quote is requested. However, DT Dijkstra's consultants and engineers know that they can provide valuable additions to the customer's ideas based on their experience. They find it a great challenge to surprise the customer with a design that exceeds their expectations.
Experience results in ingenious solutions
Customers often think from the perspective of their existing business processes and routings. The experience that DT Dijkstra has gained in the past with a wide variety of projects – and which is still growing daily due to the continuous design and implementation of installations – provides new angles with even better results in a large number of cases. This includes flexible product flows, a smarter layout and logistics lines, preparation for future capacity expansion and optimal access for maintenance and cleaning. All the more reason for companies to involve DT Dijkstra in their project at an early stage.
Substantial improvements
For example, we are currently working on a project in the Netherlands where the customer wanted to replace their existing reception and cleaning line and where DT Dijkstra saved more than 35% of newly built hall space due to the smart layout of the project. In addition, DT Dijkstra will integrate a sophisticated water purification installation in co-operation with a specialist supplier.
Project in Germany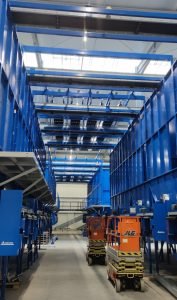 Another example of a complete new construction project is an installation in Bavaria (Germany). This concerns 2 reception lines for potatoes and onions with a capacity of at least 60 tons per hour. The project includes:
170 conveyor belts with a total length of 1.9 km;
32 bunkers with a total capacity of 800 tons for potatoes and/or onions;
12 weighing belts for process control and optimized control of the packaging department;
14 bunkers on weighing cells for optimal insight into residual flows;
2 optical sorting machines for removing foreign objects;
4 optical sorting machines for quality control;
2 large mechanical sorting machines;
2 washing lines with washing, polishing and drying of potatoes.
The project in Bavaria is currently under construction. Regular updates on the progress of the project will be posted on our social media.
Would you like to see what DT Dijkstra can do for your project or sub-project? Contact us and let us surprise you.