The well-known wooden boxes and steel bunkers have been used for the temporary storage of potatoes for years. Both have their own advantages and disadvantages in terms of purchase and use. But at Interpom, DT Dijkstra is introducing a bunker that combines all the advantages!
Boxes and steel bunkers
Wooden or plastic boxes are useful because they are easy to move and can be cleaned well. The handling of crates can also be automated at various levels. But although the purchase costs of boxes are low, the automation costs of handling and other operational costs are high. With steel bunkers, these operating costs are low, but the investment is big. And while it is easy to work with larger batches, the existing steel bunkers are less flexible for smaller batches. This also makes planning more difficult. Moreover, the standard steel bunkers are difficult to clean and are not so product-friendly.
Requirements for an alternative
In short, DT Dijkstra soon had an extensive wish list for an alternative, such as low CAPEX, low OPEX, high degree of flexibility, product-friendly, food-safe, cleanable, ventilated, scalable to automate with low CAPEX, defined small batches (e.g. 850 kg) should be easy to unload.
Practical and product-friendly
All these wishes are fulfilled with the design of DT Dijkstra's new 3.5-tonne mobile bunker. The construction is simple and robust, the bunker is equipped with a ventilation entrance and the fact that it is mobile provides great flexibility. The quality of the product has also been considered: the plastic walls of the bunker are cleanable and food-safe and therefore ideally suited for unwashed and washed product, the bunker has a ventilation shaft and it can be fitted with a product-friendly soft landing. The 3.5-tonne mobile bunker is the perfect solution for packaging companies, for example, who want to pack batches of 1-10 tonnes. By placing the bunker on a weighing cell, dosing can be done quickly and accurately.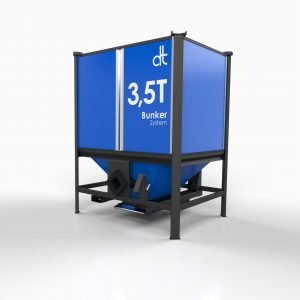 Would you like to know more about the new 3.5-tonne mobile bunker?
We are happy to tell you more about it at Interpom!
 This is the 3.5-tonne mobile bunker:
Mobile, great flexibility
Huge reduction of logistics cost
Low to average CAPEX (flexible)
Low OPEX
Simple, sturdy construction
Product-friendly, cleanable
No box tippers or the like required
Multiple bunkers can be connected to each other for central ventilation
Batches can be easily unloaded by means of product-friendly belt slider