The best-selling grading machine at DT Dijkstra has been the RT for many years. What makes this grading machine so loved by our customers?
High grading capacity
The RT can process – depending on the deployment – up to 30 tons of product per hour (indicative capacity based on potatoes). This makes this grading machine suitable for a large variety of grading lines. The machine is available in versions of 3 to 6 screen layers, depending on the number of sizes that must be sorted from the product flow. Each screen layer consists of 2 screens that are located one behind the other for an extra-long grading surface. A screen cleaner runs underneath the screen layers to prevent potatoes from getting stuck in the screen. The shaking intensity is adjusted by means of a manual variator or optionally with a frequency converter. The screen clamping system works mechanically or hydraulically, depending on the option chosen.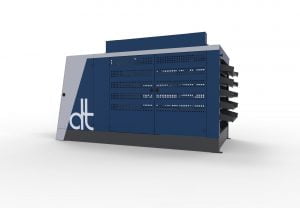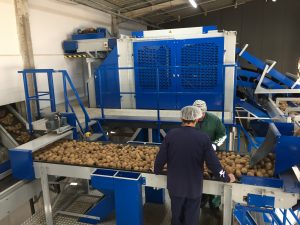 Great grading accuracy
The grading machines from DT Dijkstra have a unique drive with a double crankshaft with two eccentric shafts. This special drive, together with the unique screen deck suspension, ensures quiet and stable running. The drive technology also ensures high grading accuracy due to the specific movement pattern. The combination of forward and upward movement, speed change and a virtually standstill moment gives a very accurate dimensional separation.
The RT's screens also play a major role. DT Dijkstra screens are made of metal wire that is braided in a tight pattern. The pre-tension between the wires, created by the ingenious shape of the notch and the manual braiding process, ensures that the fall-through dimension remains the same at all times. The dimensional accuracy has a maximum deviation of plus or minus 0.2 mm (uncovered screen) and 0.5 mm (rubber-covered screen). For extra-sensitive varieties and optimum product-friendliness, DT Dijkstra offer rubber-covered or full rubber screens. The screens are produced in-house according to the highest quality standards.
Unrivalled sustainability
DT Dijkstra graders are known to last for decades, while maintaining grading accuracy. With a robust grading machine from DT Dijkstra you opt for the lowest costs per ton of processed product. The correct periodic maintenance naturally extends the life of your machine. You can also call on DT Dijkstra for this. Our service and maintenance department is available 24/7. And original Dijkstra parts according to the latest technology can be quickly delivered!
Learn more
For more information about application and options, contact us via sales@dtdijkstra.nl or phone +31 527 30 77 00.