DT Dijkstra offer a large number of solutions for grading to size and quality, cleaning, drying, logistics and storage of potatoes, onions and carrots.
Big or smaller

Whether you want to start small or go big, DT Dijkstra is the partner that can meet your needs. We offer installations that differ widely in size, function and capacity. Our projects range from a simple grading line to a large installation with various sections such as reception, sampling, grading, dry cleaning, wet cleaning and buffering. We would be happy to discuss with you how we can best help your company move forward.
The best solution from a technical and business perspective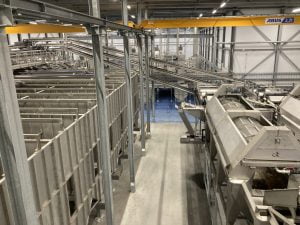 When making an inventory of your wishes and needs with regard to the production process, we look at what is possible and what can be made possible from a technical and business perspective. Is the requested solution also the best solution or can it be done better, more efficiently or at a lower investment? According to your wishes, we can arrange everything from order to delivery or we maintain close contact with your project team. For example, when our project is integrated with your existing project or with other project parts. Our experienced specialized technicians and project teams make your plans a reality. We take pride in delivering a great installation and providing you with the best service possible.
Technical design is in our genes!
DT Dijkstra machines and installations can be found all over the world. New excellent solutions are still being added as we go along, because… technical design is in our genes!